Welcome to Akash Group of Institutions, Devanahalli, Bangalore, an abode of Innovations and Values in Education.
We have been deeply influenced by the rich legacy of values and cultural heritage of Mother India. We have been striving to explore the finest educational practices with real life experiences. Lots of aspirations and vision have gone in the creation of this beautiful campus, free from the pressure of metro life. AIS aims to develop in its students a sense of self assurance, self reliance and respect for people and culture. Each and everyone here is provided with equal opportunity to bloom fully. AIS endeavors to promote positive inter-personal skills that enables harmony at work and assist students to become compassionate and responsible individuals.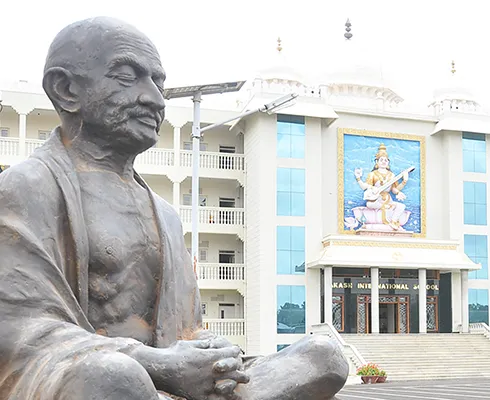 Chairman, Akash Group of Institutions
Akash International School wish to prepare the children face life better than anyone else. Life skills, Soft skills, behavioural skills and study skills are the part and parcel of regular education in AIS. The journey to success has its origin in one's mind. AIS helps encourage the mind open out towards new vistas – the parachute which works only when it is opened.
AIS teaches the children to rise from the level of watchers to doers and achievers. We wish them evolve as leaders who help guide others towards success. AIS instills confidence among its wards and ensure that 'THINK U CAN' is the central theme in all their endeavours
Akash develops a positive leadership amongst the children who set a positive culture for positive goal to build positive reputation to get positive results lead a positive team which ultimately help them achieve permanent and everlasting world peace.
AIS ensures all-round development of everyone.
Akash International School aims to educate a generation which will be equipped to be self-reliant and self-confident to face the challenges of a demanding and competitive world thereby enabling them to don the mantle of world citizens with ease. We believe in grooming students to march ahead and aspire to attain their goals with zeal, commitment and fervor. Education imparted in the environs of the school is a journey of self-exploration, self-discovery and self-experimentation. It is our sincere conviction that each child is endowed with unique capabilities and potential which must be tapped and nurtured thus enabling them to blossom into better human beings with virtues that are rooted deeply in our culture.

AIS is a school with a difference and offers the highest standards of academics interwoven with exemplary levels of co-curricular activities. A team of highly qualified and dedicated teachers support the ideal growth of children. They are aided with state-of-the-art science laboratories, computer labs, audio – visual teaching aids and a well stocked library with a large repository of text books, reference books and world encyclopedias. Great emphasis is also laid on physical development of every child and a plethora of sports facilities are provided which include horse riding, swimming, billiards, chess, carom, badminton, lawn tennis, table tennis, soccer, basketball etc.